Item # LSH25HN2X1000S20AN-M6
AIRTAC PROFILE RAIL ASSEMBLY
LSH 25MM NORMAL ACCURACY, NO PRELOAD, STANDARD SQUARE MOUNT - NORMAL BODY, RAIL L = 1000MM QTY: 2 BLOCKS
$164.65 / EA
Log in to see if custom discounts apply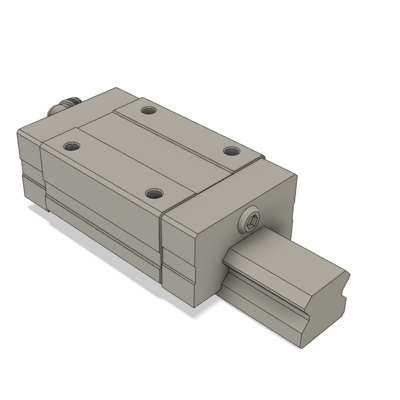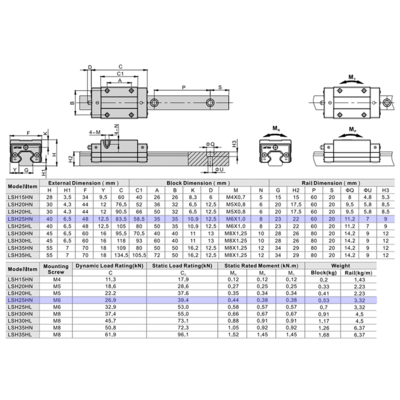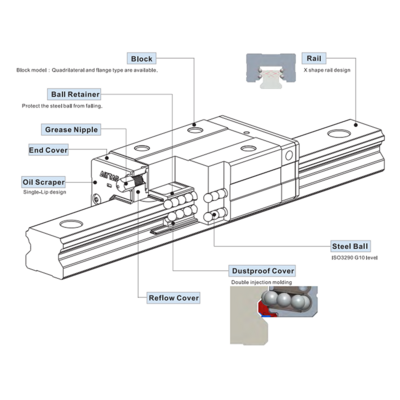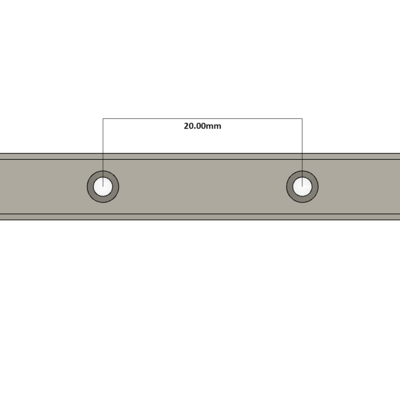 Item # LSH25HN2X1000S20AN-M6
AIRTAC PROFILE RAIL ASSEMBLY
LSH 25MM NORMAL ACCURACY, NO PRELOAD, STANDARD SQUARE MOUNT - NORMAL BODY, RAIL L = 1000MM QTY: 2 BLOCKS
AIRTAC LSH SERIES LINEAR RAIL SYSTEMS
THE LSH SERIES LINEAR RAIL SYSTEM IS LOW COST AND HIGH QUALITY. IT IS MADE TO INDUSTRY STANDARDS AND IS GOOD FOR LIGHT TO HEAVY LOADS. THE LSH SERIES, IF NOT IN STOCK, TYPICALLY HAS A 5-10 BUS DAY LEAD TIME. IF YOU NEED HELP CROSSING YOUR CURRENT LINEAR RAIL SYSTEM OR NEED HELP SELECTING A LINEAR RAIL SYSTEM, PLEASE CONTACT US.
MAIN FEATURES
LOW COST
HIGH QUALITY
HIGH ACCURACY, LINEARITY, & PARALLELISM
MADE TO PRECISE MANUFACTURING STANDARDS
CERTIFICATIONS: ISO 9001, ISO TS16949
ADDITIONAL INFORMATION
WITH SELF-ADJUSTMENT ABILITY: X-SHAPED (45?-45?) OF CURVED GROOVE ON CROSS SECTION DESIGN MAKES IT SELF-ALIGNING. EVEN SMALL MISALIGNMENT EXISTS ON THE MOUNTING SURFACE, THIS DESIGN CAN HELP ABSORB IT AND MAINTAIN HIGH PRECISION, SMOOTH AND STABLE LINEAR MOTION.
HIGH RIGIDITY, EQUAL LOAD ON FOUR DIRECTION DESIGN: THE 45-DEGREE CONTACT ANGLE DESIGN OF THE FOUR ROWS OF STEEL BALLS AND THE RACEWAY ALLOW THE STEEL BALLS TO ACHIEVE THE IDEAL TWO-POINT CONTACT, AND CAN WITHSTAND THE ACTION AND REACTION FORCE FROM THE RADIAL AND LATERAL DIRECTION. MEANWHILE, PRE-LOAD CAN BE APPLIED TO INCREASE EXTRA RIGIDITY IF NECESSARY.
INTERCHANGEABLE: BECAUSE OF THE STRICT CONTROL ON MANUFACTURING PROCESS, THE DIMENSIONAL ACCURACY IS STABLE AND WITHIN THE SET TOLERANCE. BESIDES THE BALL RETAINER DESIGN CAN PREVENT STEEL BALLS FROM FALLING OUT. THEREFORE, WHEN ASSEMBLING, BLOCKS ARE INTERCHANGEABLE WITHIN THE SAME SPEC AND STILL MAINTAIN CONSISTENCY OF PRE-LOAD AND ACCURACY.
NOT FINDING WHAT YOU NEED?
SEND US AN E-MAIL:
SALES@THEPNEUMATICSTORE.COM
Specifications
| | |
| --- | --- |
| ACCURACY | N: NORMAL |
| BLOCK TYPE | H: SQUARE TYPE BLOCK STYLE |
| BLOCK STYLE | N: STANDARD |
| PRELOAD | A: STANDARD |
| # OF BLOCK ON RAIL | 2: 2 BLOCKS |
| RAIL LENGTH | 1000MM |